discovered Bollywood has lacked its customary fizz and sparkle. Extortion, flops, murder and threats have seen film folk flee in disarray.

Bollywood's had a bad time. Just at the time money was drying up, the extortionists came a-calling. Threats, murders and a few flops later, the industry decided it had had enough. Some film personalities are seeking greener pastures o utside Bombay, others are biding their time abroad.

It was to be a year of comebacks, star debuts and one big surprise. Amitabh Bachchan made his comeback in Mrityudaata and is still regretting it. Aishwarya Rai's Hindi film debut, Aur Pyar ho Gaya flopped. J P Dutta snubbed critics and wowed audiences with his dark horse, Border. That was about the only high spot. Most of the others foundered. The patriotic Pardes was the only other big hit.
THE SCORE

Superhits:
Raja Hindustani, Border, Pardes
Hits:
Hero No 1, Judwaa, Judaai, Ziddi, Gupt
Semi Hit:
Virasat
Overflow:
Aastha, Yeshwant
Commission earner:
Koyla, Kaalia
The rest:
Mahaanta, Tamanna, Himalay Putra, Sardari Begum, Lahoo Ke Do Rang, Aur Pyar ho Gaya, Mrityudaata, Mrityudand, Itihaas, Ghunghat, Betaabi, Mere Sapnon ki Rani, Daud, Mr and Mrs Khiladi, Prithvi etc.
The year also saw film-makers like Govind Nihalani and Prakash Jha switching over to commercial cinema, signing up actors like Ajay Devgan, Juhi Chawla, Anil Kapoor and Madhuri Dixit. Jha made Mrityudand about love, revenge and feminism in a Biha r village. It bombed. Bad omen.

Last Diwali, the only film that made news was Dharmesh Darshan's Raja Hindustani. It put Karisma Kapoor in the number one slot and made Darshan a director in demand. Now he's involved in a controversy regarding his heroine in Dhadkan and he's dumped Arbaaz Khan for Sunil Shetty. The other Diwali releases of last year, Ghatak and Sapoot fizzled away.

That is the good news, or the best there is. There were the extortion threats, followed by Gulshan Kumar's murder, composer Nadeem being the man accused of it, the muffed attack on Gupt director Rajiv Rai and others.

To provide a suitably gloomy background, big films bombed despite some big stars and film-makers being at the helm.

According to Komal Nahta, Rediff Movies columnist and editor of Film Information,, "The last three months have been the worst. In fact, the worst in 50 years". The extortion threats seem to have contributed greatly towards this setback. Financiers withdrew investments and shootings ground to a halt. There is panic and the most stars either went abroad to shoot or withdrew into their homes.

"Where there used to be 20-25 shootings a day, now there are not even six," says Nahta.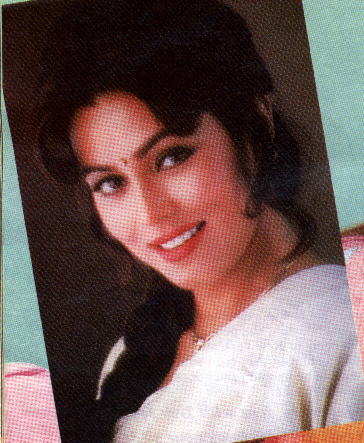 Mahima in Pardes, one of the three superhits. Click for bigger pic!


Mehul Kumar, director and producer, begs to differ. "I don't think people are scared. The shootings are going on as usual." It's another matter that he is not shooting himself. And he refused to comment on the extortion threats and the murders, saying, "I don't know anything about this".

Another reason could be that many films have flopped. Films with budgets over Rs 80 million have flopped. The major disaster has been Bachchan's comeback-turned-go back vehicle, Mrityudaata.

Rahul Rawail's Aur Pyar ho Gaya had Miss World Aishwarya and Bobby Deol, and music by Ustad Nusrat Fateh Ali Khan. All the right ingredients... But the audiences didn't think so.

"The industry has been going through a rough patch these last three months. Me too, considering my film didn't do well," says Rawail.

Prakash Jha's commercial art venture, Mrityudand, bombed. Click for bigger pic!


Rajiv Rai's Gupt made the grade. Hero No 1and Judaai did better. But the only blockbuster was J P Dutta's Border. Mrityudand, Madhuri Dixit's once-a-year serious film, which she did for free for Prakash Jha, w as not taken seriously. There's apparently no market for socially relevant stuff, but even socially irrelevant films like Mr and Mrs Khiladi, Prithvi, Mere Sapnon ki Rani, Daud, Itihaas met with the same fate.

Oomph girl Urmila Matondkar exposed as much skin as she could this side of the 'U' certificate, but still couldn't save her Daud and Mere Sapnon ki Rani. Rakesh Roshan's Koyla, starring Shah Rukh Khan and Madhuri Dixit, bombed. Roshan has not yet announced his next film.

"The money that had to come from the public is not forthcoming and hence the financial trouble," says Nahta.
Dark horse: Border, the blockbuster.


While funds are hard to come by, expenses have gone up. When they flop, the losses go up tremendously.

Part of the problem is that stars and technicians are demanding more money.

"Stars don't invest in films. So the money goes out of the industry and none of it comes back," says Nahta. But if a producer or a director has a hit, the result is another film, which brings the money back into the industry.

The question is not whether the stars charge so much, it is whether they are worth it.

Shah Rukh apparently charges nothing less than Rs 15 million. But his films don't even get a 20 per cent opening at the box office. Even for Pardes, starring Shah Rukh, the credit goes to Subhash Ghai's direction rather than the star's performanc e, Nahta says, adding that Bollywood's losses in the last three months ran up to something like Rs 400 million.

"Even (director) David Dhawan charges Rs 15 million a film. We never heard of a Yash Chopra or anybody from the older generation ever charging like this," laughs Nahta.

Says Mehul Kumar, "Actually, the whole nation is going through a financial crisis. Why single us out? We will get out of it eventually."

There also appears to be a shortage of new talent. Though Akshaye Khanna is being touted as the next superstar, he has not managed a hit on his own yet. Mohabbat, which had him opposite Madhuri Dixit, came a cropper. Though Bobby's Gupt did well, credit for its success is attributed more to Rajiv Rai's directorial skills than to Deol's talent.

Among the heroines, former Miss Universe and Miss World Sushmita Sen and Aishwarya Rai respectively, laid quietly their debut films to rest. Both Rai and Pooja Batra in Virasat interested the audiences, but there's still nary any star in sight. A nd with all the trouble going on, few releases either.
Great expectations belied: Sushmita Sen. Click for bigger pic!


Now for the future. Karisma is coming out of hibernation this Diwali with Yash Chopra's Dil To Pagal Hai. Other films being released this festival season are Bhai, starring Sunil Shetty, Pooja Batra and Sonali Bendre and Mustafa with Nana Patekar and Raveena Tandon.

The coming attractions promise much. There's Rishi Kapoor's directorial debut Aa Ab Laut Chalein (with Rajesh Khanna, Aishwarya Rai and Akshaye Khanna), slated for a 1998 release, Dharmesh Darshan's Dhadkan with Sunil Shetty and Shilpa Shetty and Mela with Aamir Khan and Karisma Kapoor, Ram Gopal Varma's Satya, Rajkumar Santoshi's Pukar (for Boney Kapoor) and China Gate.

Loads of promise there. The way things are, there doesn't appear to be any way to go, but up.