Bobby Deol: Ooooh What a Hunk!!
It was painstakingly planned. The metamorphosis of a fun-loving youngster into an actor. From a star-son to a celebrity. Bobby Deol's path to and through tinsel town hasn't been quite so conventional. Back when he was growing up, his father, Dharmendra and brother, Sunny Deol, were getting acclaimed for their films. It was then that the acting bug bit. And Bobby was in a position of following. He just had to say that he also wanted to get into filmbiz and Dharmendra summoned all the resources at his command to make it happen. And big brother Sunny was more than willing to meticulously plan little brother's launch vehicle. So much also, that he almost put his own career on hold to give his all to Bobby's Barsaat. And Barsaat was indeed the acid test owing to the accompanying shenanigans and the great expectations from yet another product of the Deol clan. Would he or would he not pass muster, was the question. Everyone waited with bated breath. With the release of Barsaat, Bobby Deol made filmgoers feel why he deserved to be in this business. His onscreen seduction of Twinkle Khanna reverberated throughout theatres. Notwithstanding the tepid box-oflfice response to the film on the whole, here was a hunk to be reckoned with. And he proved that hunkdom was more than just a nice looking body and mug. No wonder the actor reportedly commands more than a crore of rupees for a role today. And if that's not bankable, as the industry keeps measuring its stars, then what is?
Still he's practically unique among the new breed of actors landing starring roles in promising projects. He could have taken the easy path and opted for the sexy leading man roles coming his way. Instead, he consciously chose his roles and restricted his choice to Rajiv Rai's Gupt and Rahul Rawail's Aur Pyar Ho Gaya ,with the bewitchingly beautiful, Aishwarya Rai. Bobby seemed in no hurry to grab movies for there was a lot more happening in his life. While we were all waiting to see him scorch the screen again after Barsaat, he was nursing a broken leg,romancing the young and beautiful, Tanya Ahuja, and making elaborate plans to lead her to the altar.
Now, much married,extremely happy and revitalised for the release of his much awaited, Gupt, he back. Right time to meet the man who took almost a year off from acting and yet hasn't ceased to sizzle. Shooting for Tip's untitled venture at Mehboob Studios, he's already making his female fans go weak in the knees. The hordes of girls swarming the studio to get a glimpse of him vouch for his never diminishing popularity. If only the girls knew that after hastily waving out to them, he swished out of the studio to have lunch with his newly-wedded wife, they would have been assailed by the green-eyed monster. Well, alternating between his two diametrically different selves, those of a happily married man and a much sought after star, Bobby Deol is indeed an intriguing guy. Intrigued that we are, as anybody else, we cannot help but ask him the obvious. Still in the throes of a newly found stardom and having tied the nuptial knot recently, isn't he precariously poised? Going by the hectic shooting schedules and uncertainties of this career while wanting to spend precious time with his newly-wedded wife."I know I got married at a stage when I was still trying to establish myself as an actor. But I don't think marriage in any way interferes with anyone's career. What matters is the way you strike a balance between your professional and personal lives. And I think I'm managing it quite well. Saw how I sneaked out to have lunch with my wife in the midst of hectic activity? (Laughs). Just as I take care to give her enough time and attention, she also understands that she has to adapt herself to an actor's erratic lifestyle. Frankly, she' very supportive of whatever I do. Moreover, I don't give her any reason to complain. She accompanies me for the outdoor shoots, so that gives us enough time together.

"Being the newest heartthrob on the scene, forever being badgered by sighing female fans and in constant company of beautiful leading ladies,does his new bride feel threathened? He smiles lazily and drawls,"Oh no! Tanya is quite cool, that way. And confident as well. She knows that I love her a lot and she's the only woman i'm going to spend the rest of my life with. She has no reason to feel insecure. And she's not the one to give in to negative emotions like jealousy and possessiveness"
Oh! they were so madly, badly in love that they couldn't wait to get married.He frowns but suddenly relaxes, "That way there is no end to waiting.Yes, we loved each other enough to want to get married.Both the families had given their approval. And I think 27 is the right age to get married. If you grow older, it may be little difficult to adjust and adapt. Now we are both going through that process beautifully well."
But does marriage affect the popularity of a male star? For he definitely cannot have a loverboy image that the female fans hanker after, once he's settled blissfully in matrimony. "Hey! You make me feel as if I'm already out of the reckoning. I don't think marriage affects any actor's stocks. If he does good work, he's bound to be liked by his fans. Moreover, aren't most of the saleable stars of today already married? My brother Sunny got married at the very outset of his career. Did his marriage affect his popularity? An actor's personal life need not be mixed up with his professional."
As a fledgling actor he created a euphoria of sorts. The whole industry was agog with excitement at the advent of this newest star. But just as the momentum around Bobby was growing,ironically, there aws a sudden lull in his career. Due to the one year hiatus, was he forced to pass up the plums that went to others? And did that went to others? And did that cause him dejection? "I'm not the one to feel dejected over such things. Moreover, there was no time to fret over the lost opportunities (there weren't any, actually). Because, first I was laid up in bed due to my fractured leg. Thereafter I was busy getting married. And now I'm back. Gupt is almost complete and ready for release. So isn't everything hunky dory?" he counters.
Okay, there's nothing worth fretting over now. However, going back to the Barsaat days, we can't help but ask the ebullient star if the lukewarm response to his launch vehicle disappointed him. "It's but natural to be disappointed when things don't turn out as expected. I was definitely affected by the below par performance of the film. But since Twinkle and I were hailed as capable actors, we weren't so crestfallen. The film had launched both of us, so to speak.
" Why did the film fail to deliver despite the hard work and money that went into it? He ponders a while before answering this one. "Visibly, there weren't flaws in thefilm. The cinematography, music, performances, production values were excellent. But certain behind the scene developments could be responsible for the way it turned out to be. Maybe the script was flawed, maybe the change of directors had something to do with it, but it's no use dwelling on something that is over and done with. All said and done, the film wasn't the kind of a flop that it was dubbed to be. It wasn't a losing proposition at all."
Coming to the family fold, how does he relate to his famous father, Dharmendra, and hos much acclaimed brother, Sunny Deol? "Like any other child or any other brother.I love my father a lot and he dotes on me.He's always pampered and indulged me no end. As a child, I always felt that he was the best actor around. I had seen almost all his films. But Chupke Chupke, Mera Gaon Mera Desh, Yaadon Ki Baraat and Sholay rated among my hot favourites. And I'm proud of the fact that my father is one of the best looking men in the industry plus an actor for all seasons. So is the case with my brother, Sunny I've always felt good to know that he is one of the few macho men in the industry also known for his exceptional histrionics."
And what do they, in turn, feel about him? "As an actor?" he quizzes. "Well, they felt so proud after watching my performance in Barsaat that they were overcome emotionally. Otherwise, as a father and brother they are like two pillars of strength for me. And they're both very protective towards me.
" Over protective? Rumours insisted that Bobby desisted speaking to the Press till dad Dharmendra gave a go-ahead and Sunny went to the extent of monitoring his interviews. "Is he monitoring this one too" he laughs. "If they wanted me to tread a bit carefully at the outset of my career, it was in my best interest. Neither me nor anyone else can hold that against them. Now that I have come of age, I'm making independent career decisions. Yes, we do discuss things, I seek their opinion on important matters and they do advise me as well. But the final decision to sign or not to sign a film is left to me."
Does he always toe the line or chooses to rebel sometimes? "There are times when the family doesn't approve of what I do. Like dad hates late nights. So I try to curb myself as much as possible. But sometimes if I feel very strongly about something, I tend to do it willy-nilly. But I'm not a rebel."
Okay, Bobby is grown-up enough to assert himself and make independent decisions. But left to himself, is he confident enough of handling his career prudently? "I think so. Because I don't make my career decisions on an impulse. I sign films after a lot of deliberation, preferring quality over quantity ohus guarding against overkill and over-exposure and ensuring that I give my best to whatever I take on."
Talking of quality work reminds us of Gupt where he seemingly has less screen time than his two popular heroines, Manisha Koirala and Kajol. How did he accept being sidelined? "I would say it's an honour to be working with a filmmaker like Rajiv Rai who has so many hits to his credit. But it's not as if I signed the film blindly. I was quite happy with my role and the entire set-up. If the film revolves around the heroines, it's not fair to presume that I'm being sidetracked. Well, as I said earlier, the release of the film is just round the corner. So why not wait and watch before forming an opinion."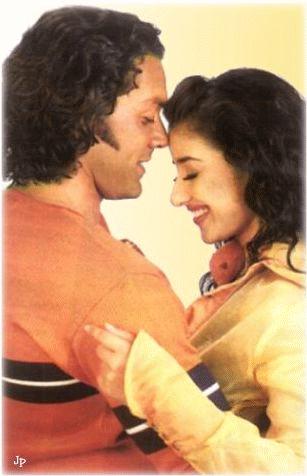 Yes, it won't be long before Bobby promises to wow us again on screen. Somehow all his films have been interminably delayed. "Yes, you're right. Barsaat took long in the making because being my debut film, no effort was spared to make it as flawless as possible. Gupt was stalled owing to my fractured leg." And Aur Pyar Ho Gaya is supposedly delayed because the better part of the film seems to have been reshot. Was it because the director was dissatisfied wioh his co-star, Aishwarya Rai's performance? "What rubbish! Except for one schedule in Goa which was partly reshot because the producer did not find the camerawork satisfactory, there's been no question of the film being reshot. And casting aspersions on Aishwarya's skills is absolutely in bad taste. Without seeing what she's worth, it's not right to say something so derogatory."
Besides Gupt and Aur Pyar Ho Gaya, the film that Bobby is really excited about is Vinod Chopra's Kareeb. Also he's looking forward to working wioh directors Abbas- Mastaan in Soldier.
Now that his career's on a roll, doesn't he fear competition between the two brothers? "I don't see it that way," says Bobby. "We are two totally different people with two different careers. Sunny has had more experience and he can do a lot of things much better than me. And there are a couple of things that because of my rawness as an actor, I can provide—things that translate into vulnerability and sensitivity, perhaps."
One final question. Does Sunny still give him advice? Bobby nods. But then, asked if he ever advises Sunny, he says, "I may disagree with him sometimes, but ......hey, give him advice? He's my big brother! "
BY: GEETY SAHGAL