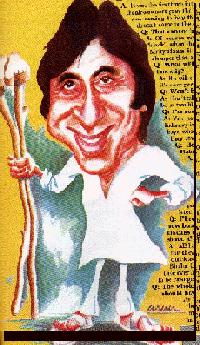 THE TOP REASONS WHY MRITYUDATA FAILED...

Q:So after Mrityudata Bollywood lost its super-star called Amitabh Bachchan??
A. How nasty a question to ask a film person. Don't you see the answer is BPL withdrawing all the AB advertisements?

Q:It must be a bad feeling to be dumped by the public so unceremoniously?
A:What you do to Rekha always comes back to you.

Q:Why do you think the public rejected Amitabh Bachchan?

A:Simple, they used to stand outside the his Juhu Bungalow hours together to get a glimplse of the man..

Q:How can that be the reason?

A: Why don't you let me complete my statement? They waited, waited and they never had his darshan. And then he made the fatal mistake of making his darshan too common. Now India waits at his doorstep to get a free dekho, why spend money and time to see what Mehul Kumar has done to him?

Q:Why is the industry collectively rejoicing his defeat?

A:Bastards all of them...they went on calling him a lenged. But he continued saying, "No, I am nobody, I'm like anybody else in the industry." The industry hated him because he made them realize that they were nobody. Now it's their turn to snigger and say we meant 'at-his-leg-end' not 'legend.'

Q:Is anybody unhappy about his debacle?

A:Yes Prakash Jha is. He is livid, fuming, raging from all his pores. He is bugged, very bugged that Mrityudaata has broken title copyrights and confused it with Mrityudand. How would you feel if you were Prakash Jha and somebody asked you kyon "Mrityudaata ko Mrityudand ho gaya."

Q:You are the insider, you would know about the real reason why the film flopped...

A:Na...na...na..na...na...re...na...re..na..re

Q:Condescending reminds me that the man stoopoed a bit too low to incorporate a rasta-chaaplike Daler Mahendi to aleviate his film.
A:Yeah he did, but he didn't do it to help the film. The man is too smart to realize that one couldn't do anything for the film.

Q:Then why did he do it?

A:Andar ki baat hai...it was his way of pleasing Rekha and the message ws Na...na..na..'RE'...'RE'


Q:I feel this industry has a strange way of operating. When I went for the film they were selling tickest in 'BLACK', so how can it be termed a flop?

A:It was the first time in the history of films that 'black' was official. All theatre owners gave the 'black' walah tickets to sell...because nobody was coming to buy the tickets at the counter. So when the water doesn't come to the camel, the camel has to walk to it.


Q:That cannot be termed black then?

A: Of course not. When tickets are over-priced it's called 'black,' when they are sold at the right price it's 'white.' For Mriyudaata it was below the danger mark. Tickets sold cheaper than actual so it was called 'Red Marketing.'

Q:What will the ever-slipery AB have to say about this slip?

A:He will say he doesn't want to speak about it, because it's very personal.

Q:Phew! That's quite a story. I heard that at AB's new bungalow they had a secret official meeting to discuss their further plans. Have you got any dope about it?
A:AB has threatened to walk out of the A.B.C.L contract but they won't let him go just like this. So in a move as quick as lightning AB called upon Armaan Kohli, actress Bindu, Chunky Pandey and Lalita Pawar so they could take over the company as the intial A.B.C.L would not have to be changed then.

Q:The whole fault for this fiasco lies with Amitabh, he should have never over-stepped a dream?

A:Yeah! but when you sleep on a soft-cushioned bed, dreaming becomes a lot more easier, not to mention the airconditioner numbs your senses and turns your dream into a nightmare.
---
MAIL ME UR COMMENTS
SIGN MY GUESTBOOK
VIEW MY GUESTBOOK
RECIEVE EMAIL WHEN THIS PAGE IS UPDATED