'Shahrukh dead' and other Bollywood gimmicks
You know the success rate of a Hindi film? A miserable one in five. And by successful, we mean just the survivors. It's been a hard time since the collapse of the formula film market, forcing film-makers to opt for storylines that defied reality, even the imagination. But still the graph stooped low. So the film-makers, maybe inspired by their counterparts in Hollywood, turned to the marketing men. Save us, they implored...

The headline in the newspaper said actress Manisha Koirala was dead and that the killer was on the run.

Many frantic calls hit the newspaper office. It's only an ad, the callers were smugly told. Koirala was alive and kicking at some suburban set. The mandatory slug at the bottom of the ad had conveniently been dropped. It was director Mahesh Bhatt's way of pushing his upcoming film Criminal wherein the heroine is killed half-way through. The trick brought Bhatt and Co some easy publicity.

Producer Mukesh Bhatt found that the trick, though easy on the budget, could hurt too. Flak from the media followed him long after Criminal vanished from the theatres. And the police kept an eye on him too. 'Tasteless' and 'unethical' were among the kinder comments made about him. But he defends himself staunchly, saying: "I don't understand what the fuss is all about. It was just an advertisement."

Bhatt points out that the film industry is highly competitive and it isn't easy to entice an audience to the theatres. "Marketing a film is very important these days to draw attention. All I did way employ a gimmick," he says.

A similar gimmick had been employed sometime earlier when Jackie Shroff was 'arrested'. Annu Kapoor, too, the report claimed, was beaten up by a gang of beggars.

The April fool promo was for Gardish, which did well but somehow did not suffer the Criminal backlash, probably because it was only featured in Good Day, an ape of Bombay's successful tabloid, Mid-Day. But Jackie was sh aken, since the producer was playing on the police probe into the actor's alleged links with gangsters. Shilpa Shirodkar was also 'killed' by Gulshan Kumar, to push his new film Bewafa Sanam. Again in an ad. It didn't work. Apparently, not many c ared.

More recently, in the wake of the Gulshan Kumar murder, there were rumours of Shah Rukh Khan being shot dead on the sets of Duplicate. It could have been put down to a keyed-up audience, had that film too not been a Bhatt product. Maybe some peop le never learn.
Rumour rules: A still from Duplicate.


Cheap as they were -- both in terms of expense and taste -- these pranks did help their perpetrators get their movies a better standing than they would have otherwise. Proving that marketing could push a producer's rupee farther.

Less misleading -- other than in the sense that they were leading on the misses -- were the Avvai Shanmughi -- the Tamil remake of Mrs Doubtfire -- sarees that hit the Tamil Nadu markets. These could have been put down to the success of the film had they not appeared in the market during the film's early publicity phase. The film's star, Kamal Hasan, says it won't be long before some Chachi 420 -- the Hindi remake of Avvai Shanmughi -- sarees hit the Hindi market too.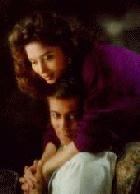 That selling saree: Madhuri Dixit in Hum Aapke Hain Koun.


Sooraj Barjatya, who made Hum Aapke Hain Koun, also reaped the benefits of publicising the violet saree worn by Madhuri Dixit in the film. Barjatya also created an artificial shortage by restricting access to prints of his film, knowing he was in on a good thing anyway. The demand grew, and distributors got unreasonably frantic for prints, considering it a privilege if they were finally picked.

So it was Barjatya doing them the favour instead of the other way around. As a result, more money came in and with less resistance. And, unlike Mukesh Bhatt who has to yet to live down his 'gimmick', Barjatya gained only goodwill for giving away his own f ilm!
Hero on CRT: Prabhu Deva


Another director who considers the marketing factor carefully is Shekhar Kapur. Of his own admission, when he went to meet producer Devi Dutt, he saw photographic evidence all around that this was a family man he was dealing with. So he immediately scrapp ed the script he had in mind and told him another story. The producer capitulated almost immediately. The result was Masoom, which, to Kapur's credit, was a well-crafted effort.

Next, Kapur cocked a snook at the audience with Mr India, which mixed H G Wells, hammed-up Hindi film villainy, Brahmachari, kitsch, with jingoism thrown in to prove the man's sauce. But again, it was a well-made film, and a huge success .

Third time around, he played on controversy to sell his film Bandit Queen. Since it was a 'serious' film, he had the literati right behind him when he depicted frontal nudity -- as always because the film demanded it. "Without controversies Kapur saab never makes a film now," says one of his assistants.
Glamour pitch: A still from Rangeela.


"Marketing has become an integral part of the film industry," confirms Manohar Mutkote, formerly a distribution manager with Rajshri Productions. Mere hoardings and giant cut-outs won't suffice.

Without such marketing, it isn't possible to sell a film properly, says Mutkote. And the pressure has grown, with the easier availability of films from Hollywood and other Indian languages and the insistent presence of television, free, with channels f or every shade of interest at one's service around the clock.

Maybe Vidhu Vinod Chopra got a little cute, erecting a miniature set before a theatre to mark the release of his 1942, A Love Story, but so did J P Dutta, perching a replica of a tank atop the marquee of Bombay's Metro theatre for his Border.

Sometimes the gimmicks can get really hilarious. Like when the director of a Kannada tear-jerker offered all the women in the audience free handkerchiefs to see them through the movie. Not so funny was the attempt by a producer to cash in on a spate of ki dnappings at that time. He invited all parents of missing children to the theatres since, in the film, the child protagonist is safely returned. The enraged and distraught parents nearly destroyed the theatre. The film was finally banned!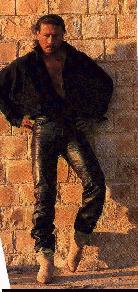 Accused: Jackie Shroff Gardish.


Movies have long been marketed at rural centres by vans announcing the attractions on screen. Till recently, Marathi superstar Dada Kondke often used a boonga to publicise his risque films. In the south, banners hung from elephants have sometimes been used.

Television, that old enemy, has also been made an ally by film-makers who get songs from forthcoming telecast. Some manipulation of listings of popular programmes too have been hinted at.

Prabhu Deva is among the first actors television made famous. Time and again his numbers in Kadalan aka Humse Hai Muqabla were flashed on the small screen. And, despite being an indifferent actor, dark, thinly bearded, and not very attr active, the ex-choreographer was a mega-star.

In fact, television is such an effective way of selling a film that even though most channels acquire song sequences illegally, the film industry takes no action against them, argues Mutkote. Why kill free publicity seems to be the argument. Yash Chopra i s a exception. Not only does he not allow channels to screen his songs, but he even refuses them clippings. Which is why some angry bigwigs in the television industry are just waiting for his next flop...
Saree windfalls: A still from Chachi 420.


Seeing demand in the making, three years ago producer K Rajagopalan formed the Tamil Film Producers Council, with the sole aim of marketing films on television channels. But producers of films in other languages are still cautious.

"Sixty per cent of our programmes are film-based, but the Kannada film industry is yet to wake up to the potential of television," says Srinath, who heads Udaya TV in Karnataka. Resistance is slowly eroding, though. Marketing rules again.

Lala Damani, who pushed his film Saazish by getting former screen vamps Helen and Aruna Irani to dance together, is shoring up his bets with spots on Doordarshan and FM radio. "Their reach is far wider that newspapers or cable television."

Of course, everyone agrees that the best way to sell a film is to make a good one.

No matter what gimmicks a producer does employ, the film will fail if it is bad," says actress Urmila Matondkar, whose Rangeela and Daud both played up the scantiness of her clothing. Rangeela did well and Daud was a fl op.

Proof, perhaps, that the better film won. Or maybe the audience had already seen all they wanted to.
---