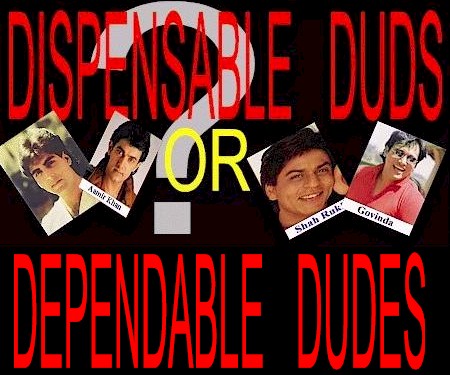 Definetly, winds of change are blowing through the musty corridors of staid, old Bollywood. Suddenly, windows seem to have been opened up to let in the breeze and sunlight. Cobwebs of the insecure male mind are being swept out and heroines are asserting themselves as individuals, if not on screen, at least in their personal lives.

Unlike the Raakhees and Dimples of yore, today's generation of goal-oriented actresses will not accept ultimatums like "Either me or your career." Nor will they accept domination of any kind, whether it is in the form of know-all Nana Patekar or a know nothing Akshay Kumar.


Speaking about Akshay, he may have suffered bouts of amnesia about Raveena much to her chagrin, but she knew exactly how to set his ailment right. Through veiled messages via the media she cured him of all memory lapses. From 'She is one of my friends" he progressed to "Yes, I do go out for coffee and dinner with Raveena" to finally "I admit to Raveena." In her own subtle way, Raveena made the macho-but-nervous karate expert knowtow to her dictates.

Yes, many of the girls are madly in love but they definetly not blindly so. Try laying down conditions to Pooja Bhatt or Sushmita Sen and you'll be out of their lives even before you are out of their doors.






Pooja reveals what she expects from her boyfriends. "By Relationship," she said, "I mean someone who is important to me as a friend. Friendship is also love to a great extent. I find the word 'love' so limited."

With her lust for life, it is not surprising pooja finds the oft-used three words 'I Love You' inadequate. After all, as she analyses, her loving someone is much more than, say, loving to eat ice cream. People wonder why she can't find permanence in any of her relationships. Typical of our mind-sets to wonder at her and not consider the inadequacies of her boyfriends. If you can fault her it is on her choice of men. But at least she has the courage to cut of dead relationships.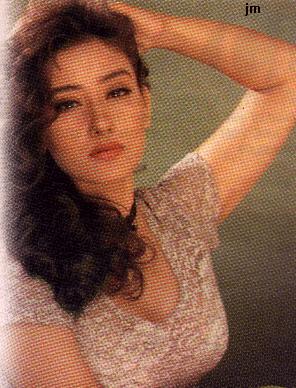 Nana may have played proffessor higgins to manisha for a while but even Ms Doolittle walked out on her mentor , Didnt'she?

Just like Manisha Koirala, She, too, has drifted in and out of several relationships from with a still-in-college Sameer to a man-of-the-world Patekar. Just when one was beginning to feel sorry at her loss of identity with the dominating older man ruling her life almost completely, it was heartening to hear she was considering snapping ties with him. Who was he, anyway, to publicly humiliate her dress sense? He may have played proffessor higgns to her for a while, but even Ms Doolittle walked out on her mentor, didnt she?

Flower girls, too, don't like to be taken for granted. And the Koirala from Kathmandu is no ordinary flower girl. If Patekar thinks he's the last word in acting, his young protegee has also proved she can deliver power-packed performances. 'Teach me you may, but trample over me you may not' seems the stand she has taken.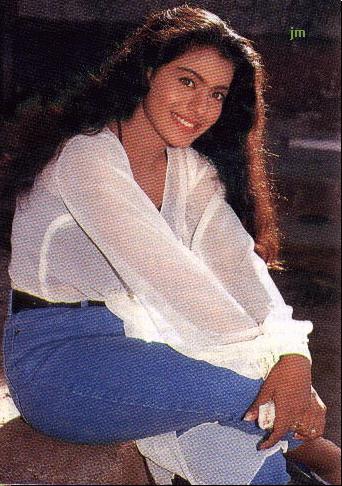 Today's heroines, increasingly, do not wish to walk behind their beaus. Kajol holding hands with Ajay openly on the sets, symbolises the new morality. The new generation walks hand in hand, with their boyfriends, not docilely behind. If Ajay can cavort on the snow peaks of Switzerland with a skimpily-dressed Sonali Bendre, so, too can Kajol with a Shah Rukh. what applies to him, applies to her as well.

To Ajay's credit, there is no sense of insecurity where Kajol is concerned. Totally confident of himself and where he stands with her, he doesn't have to feel threatened by Kajol's co-stars or the way she dresses.

In today's time the Gulzars, Randhirs, Rishi Kapoors and Rajesh Khannas would have found it hard to acquire wives. At least the glamourous, talented actresses they took home would not have been theirs for the asking.




Babita was besotted enough by Randhir to give up her career for matrimony but it is doubtful if daughter Karishma will do likewise when she falls in love. Ajay devgan may have saved her life and ignited love along the way but she opted for a blossoming career to a blossoming love affair, without much ado.




Even Tabu who, till recently thought she'd complete her assignments before marrying Sajid Nadiadwala, seems to have changed her mind. While conceding that marriage with Sajid is defintely part of her future plans, she also states that she will continue to work in films even after that because she would not like to depend totally on one person for her happiness. It never works that way, she observes wisely, late but not too late.

The actresses of this generation have their priorities clearly chalked out. There is no question of making a choice between boyfriend and career.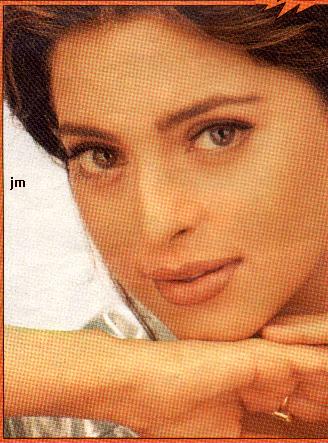 So, Juhi Chawla goes for exotic holidays with Jai Mehta in Bali and Goa but she goes for equally exotic shooting schedules with Shah Rukh, Aamir and Rishi. Once again, hats off to her industralist fiance that he has the confidence to accept her as she is, career and all. He is there, by her side, at parties and fun times. He is also by her side when she needs him in moments of sorrow. Juhi likes her man to be a well-rounded personality and Jai Mehta seems to fit the bill perfectly. No gauche, rough edges here.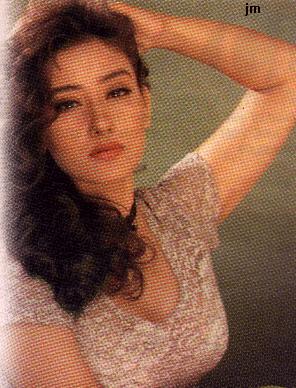 Confidence in themselves encourages the boyfriends to have confidence in their actress-friends. "NO relationship will last long if it's a drudgery," Manisha once said. Perhaps that's why girls like her, Pooja and Sushmita use the surgeon's knife when any relationship threatens to become one. All it took for ex Ms. Universe to snap ties with Vicky was a phone call. No weeping endlessly into pillows and appearing puffy-eyed on the sets.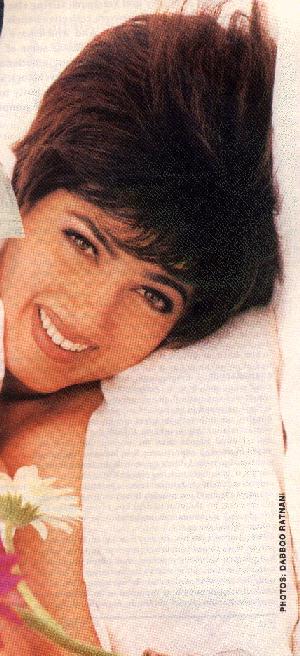 When Gattu, Twinkle's ex-boyfriend, proclaims, "I don't need this super-ambitious career-woman" he makes a laughing stock of himself. For she could well retaliate with a "Who needs you, anyway?" Weak, impish, he admits that he two-timed her when was going through an identity crisis! The oldest excuse under the sun, it's not likely to earn him many sympathisers.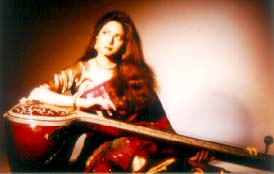 Finally, it's your talent on screen that counts, not some cultivated image-off-screen. If Sridevi was mouthing blatant denials because she was worried the ticket-buying viewers would not approve of her if she said anything more honest, she could have learnt a lesson or two from Manisha. She has always lived life as she wanted to, never finding it necessary to hide her drinks or her boyfriends but still viewers thronged to the theatres to see her as a burkha-clad girl from a small town in Bombay.

Didn't people simply adore Kajol in Diwale Dulhaniya...accepting her as Shah Rukh's sweetheart even though-off-screen, everyone knows she is the love of Ajay's life?

As one said earlier, fresh winds are blowing through filmdom. The present generation of heroines are living lives on their terms, living lives as individuals. And slowly but surely the men are accepting them for what they are. Too bad if they don't. The loss is entirely theirs.
---