WILD FIRE




Recently, I saw Arbaaz Khan in a video magazine and I must confess I was maha impressed by him. He has worked hard on his character and his sincerity shows. My heart cried, wailed when he was stuck at the rail tracks. The movie(darrar) had me glued to my seat. Arbaaz continued from there. "I still maintain that had the film been released before AGNISAKSHI it would have done very well." But letting bygones be bygones he instead spoke about the film h is shooting. "Shyam Ghanshyam is a good commercial film, it will do really well at the box-office."
Nothing new about the line but the firmness in his eyes almost made me believe him.


Govinda..aah, he is just impossible. Agreed he is a good performer but why the hell doesn't he do his job on time? Recently on Deepak Sareen's set the man was expected to report at 2'0 clock, he arrived at 6:30. For four and a half hours you had apna Jaggu waiting and twiddling his thumbs. Once Raja Babu arrived on the set, Chi Chi continued saying 'Chi-Chi' to every shot he gave. The director said 'wah-wah' but Govinda continued with his 'chi-chi.' Jaggu finally irritated walked out of the set. Poor Deepak Sareen, he had to rush to Jags and pacify the man to return back. All's well that ends well but Govinda better "watch" his steps.






Lady Luck seems to be suddenly getting up from a snooze and backing one star. She got up, touched Karishma Kapoor, she then sidled to Sunny Deol and the stud delivered hit after hit at the box-office. Now it's the turn of the lady to her charms on Anil Kapoor. The poor fella went on claiming that he is the number one but nothing happened to his box office ratings. Then suddenly his Judaai did well, and Virasat aslo has got him rave reviews. I hope Anil makes hay while the sun shines. Keeps his mouth shut because lady luck loves silence around her.






Times certainly seems to change very quickly. Dormant siblings turn dominating while the dominating tries hard to turn docile due to change in circumstances. Chinu(Namrata) was going the next day for an outdoor and sister Shilpa kept buzzing Namrata to ask her for this and that. So when Shilpa called her to ask her about which lenses she wanted to take, an exasperated Chinnu finally barked, "Put all of them together! I want the blue ones but you'll probably put in the blue-gray ones or something else because you wouldn't know so put all in my suitcase, And now please stop calling for these little, little things!" Before she could complete her sentence an equally irate Shilpa hung up her phone. When rebuked as to how she could be so mean to her own sister Namrata replied, "Well I also did the same thing for Shilpa during her time!" Meowwwwww! One catty sis this!






Sunil Shetty, that piece of absolute, sheer, male perfection, has certainly turned grouchy of late. Fans on his set who had turned up to click pics with him were surprised to heard irritated Shetty snap, "Not now, let me remove my make-up, then maybe..." The persistent fan continued relentlessly While Shetty resisted. Finally the fan ran out of pleas and said, "BUt we dont mind posing with you in this get-up." Sunil finally couldn't hold onto his temper anymore and snapped, "but I definetly do mind na! I don't want to shoot pics looking so bad!" Sunil has definetly become quiet conscious about his looks but one can't also blame him. The get-up he was in was quite terrible. He was shooting for Bhai and he was made to wear a long wig(which was scarily red in color) with curly locks coming down onto his shoulders, a brown, curling moustache to match and a horrible small cap to top it all. He's supposed to be this rustic coming from the village. GAWD! What make-up wil they think of next?


---
Madhuri Dixit's make-up man and hair dresser have asked their concerned association for a special raise. All make-up artistes in the industry get a fixed amount for their services but Dixit's staff feels they deserve extra. Their demand was repeated in a meeting at the IMPAA house. The response was unexpectedly kind. The producers agreed that it was not easy to make a 30 plus look at 13 plus and for Madhuri's make-up crew, the job was getting even tougher by the day.

---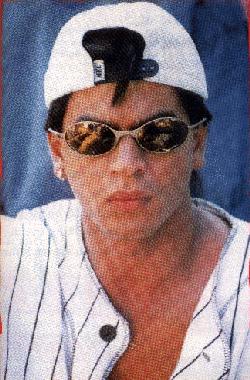 Those days are gone when Shah Rukh used to put his foot in his mouth, these days he puts in a cast. Shah thinks that the best way to take a break is break a bone. He's done it again for the tenth time in the year. He tore his shin ligaments, pushed his foot into a cast and wobbled at home for 4 weeks on crutches. "I've used this time for self-analysis and growth," he says. "I'm trying to find out who I am." The conclusion could take a while, the good news is that he's having a baby, so right now he's a proud papa-to-be. Proud and happy. And may God keep it going that way for him.
---

Jackie is on to a new 'love me' number. He signs off his autographs with his mobile number, scrawled underneath. Sex, age, creed..anyone can talk to Jackie, anytime, anywhere. Isn't this guy too good to be true?

---
Shilpa Shetty's father loves meeting and talking to people but the daughter and mother don't like the idea. They try to keep him away from people as far as possible. Recently when a journalist called the Shetty household, Mr. Shetty picked up the phone. "Shilpa has gone to Chennai and from there she's going here and then she is going there.." he explained. "She's become an NRI." NRI? Non-Resident Indian? Was Shilpa going to Hollywood to do Steven Spielberg's next with Tom Cruise? "NO," laughed the kindly man. "When I say NRI, I mean Non-Required Indian." If that's a joke, Shilpa Shetty is not touchy.

These money matters are strange. Money matters to most but it matters most to who have money. But where there is money there is no matter and where there is matter there is no money. But no matter what, money is money. Little or more, it matters. In case, you're wondering if I've flipped my coins, I'm just trying to give Mamta Kulkarni some tips which she may pass on if she likes when she visits her beauty salon next. The girls working there insist that Kulkarni doesn't like to pass the buck. But Mamta can take it from me, these tips will only enhance not lessen her 'purse'onality.

---