Barsaat:Flopped Miserably
Released. Bobby Deol acted well and danced well but unfortunately the movie flopped because of no story line. Even though, Barsaat was not a huge success, bobby deol recieved many offers but he chose to only work with known directors.

Gupt:Big Hit
Psst! This one is Rajiv Rai's deadly `secret'. Barsaat boy Bobby Deol's Latin charm could work wonders for this thriller. So you have the cognac-eyed Kajol and the mesmerizing Manisha Koirala, making eyes at our man Deol, the modern day `Dames' Bond. It's like this: Oops! It's too late. The `secret' is already out. Yes, there's nubile nymphet Kajol playing a naughty nymphomaniac who can't have enough of Deol Jr. Baazigarni in the making or not? Could be, what with the Koirala babe playing the real babe in the woods, who gets the hero in the end. So what's the big deal?: Do or die, Rai.
Pains: The `mass' factor. Rai does go overboard at times in his trip to go commercial, with a vengeance. And yes, there's again the psychotic anti-heroine number. Quite `dicey' for your average film sweepstakes.
Gains: Hey, this one is the Jat Junior's first release after Barsaat. Could just be Bobby boy's one-way ticket to super-stardom.

Aur Pyaar ho Gaya(coming soon)
Now wait a minute who said Bobby Deol can't be a big star. Yeah true, it took Sunny a little time to make it to the top, but hey, these 'Jats' do know how it works in the industry. This movie starring the beauty queen Aishwariya Rai and the hunk Bobby Deol is the bollywood version of 'French kiss'.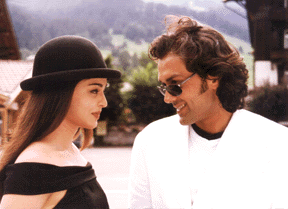 Pains: Aishwariya still has to prove that she belongs in bollywood. This maybe be another bad version of a Hollywood movie, like fareb and umm many Mahesh Bhatt's movies :).
Gains: For a change, Nusret Fateh Ali Khan is the music director, Watch out for this dude! He can be hot, if he doesn't sing his songs.

---
Mail Me any comments or suggestions