When Govinda gives you time he likes to keep it, to himself. His promises carry a lot of wait. Ask his proudcers whose times are changing and changing and changing forever. When Chi Chi arrives at 2 p.m for a 9 a.m shift they fall at his feet with gratitude. Touched(he is touched), the star decided to make amends. Now for a 9 a.m shit he reaches at 9 a.m sharp, seven days late. Kishnani, the producer of SHIKARI recently found himself at the waiting end of Govinda's generosities. While Govinda danced in Bombay, Kishnani's entire cast and crew, including Karishma Kapoor, danced in South Africa for a week.



Last month Chi Chi fell unwell for five different reasons. Atleast he gave five different reasons to five different people. To one he said, chest problems; to another, stomach ailment, to third, intestinal disorder; to fourth, urinary tract infection; and to the fifth, it was a boil between legs. When he came to the sixth, there was obviously nothing left to say.
---
Sonali Bendre's career needs drastic help but I think she needs to decide how drastic. And she needs to decide this immediately. If her pictures from DUPLICATE are any indications, any further delay in the decision could prove drasitc for her career. Have a look above.
---
Making a fool of herself I guess. The studio was packed. There was a shortage of make-up rooms. Chandrachur and Arbaaz were sharing one, even Bobby Deol who was shooting for another film, had accommodated another actor in his room. But when Miss Frill Gill was asked to share her room with Pooja Batra, she turned her nose away. She didn't like the smell of the idea. Oh! didn't she now?! Poor prig, she doesn't know that there's very little difference between a lady and a laughing stock.

There are some people who always find a hair in their soup because when they sit down before it, they shake their heads until one falls in. Priya Gill belongs to that category. She was born to find faults with the rest of the world. Nothing is good enough for her. It's her army background, we are told, which makes her so dainty. At filmcity, on the sets of SHYAM GHANSHYAM, while Saroj Khan sweated it out with Chandrachur, Arbaaz and Pooja Batra for a dance number, Miss Priya stood in a corner with a spot boy holding umbrella over her head. When it was for her to dance for the shot, pretty Priya couldn't lift a leg. She should be working for the Spastic Society of India, what is she doing here?
---
While, Namrata Shirodkar is having a tough time finding the right dance partner on the sets of ALBELA. There are two heroes in the film, Govinda and Jackie. One is too good a dancer for her, the other is too bad. Poor Nammo is distraught. "When I'm with Govinda, he has to manage me and when I'm with Jackie, I have to manage him." Nammo should look at the brighter side of life instead. Imagine, she could have been Priya Gill who irrespective of who's dancing with her, needs an assistant director to manage her.
---
Virasat reminds you of how good an actor Anil Kapoor is. A fact that gets overshadowed normally by his own braggadocios. Anil's performance is immaculate. He is also looking very good in the film. I don't think there's any actor in the industry who could have done the role better than Anil. The Kapoor has proved that even after so many years and so many new comers, you can take his pomposity for granted but not his performance.

---
Madhuri Dixit's make-up man and hair dresser have asked their concerned association for a special raise. All make-up artistes in the industry get a fixed amount for their services but Dixit's staff feels they deserve extra. Their demand was repeated in a meeting at the IMPAA house. The response was unexpectedly kind. The producers agreed that it was not easy to make a 30 plus look at 13 plus and for Madhuri's make-up crew, the job was getting even tougher by the day.

---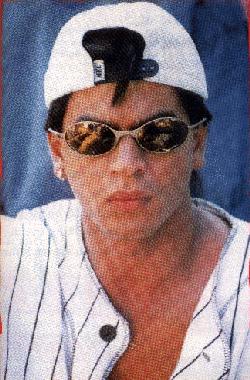 Those days are gone when Shah Rukh used to put his foot in his mouth, these days he puts in a cast. Shah thinks that the best way to take a break is break a bone. He's done it again for the tenth time in the year. He tore his shin ligaments, pushed his foot into a cast and wobbled at home for 4 weeks on crutches. "I've used this time for self-analysis and growth," he says. "I'm trying to find out who I am." The conclusion could take a while, the good news is that he's having a baby, so right now he's a proud papa-to-be. Proud and happy. And may God keep it going that way for him.
---

Jackie is on to a new 'love me' number. He signs off his autographs with his mobile number, scrawled underneath. Sex, age, creed..anyone can talk to Jackie, anytime, anywhere. Isn't this guy too good to be true?

---
Shilpa Shetty's father loves meeting and talking to people but the daughter and mother don't like the idea. They try to keep him away from people as far as possible. Recently when a journalist called the Shetty household, Mr. Shetty picked up the phone. "Shilpa has gone to Chennai and from there she's going here and then she is going there.." he explained. "She's become an NRI." NRI? Non-Resident Indian? Was Shilpa going to Hollywood to do Steven Spielberg's next with Tom Cruise? "NO," laughed the kindly man. "When I say NRI, I mean Non-Required Indian." If that's a joke, Shilpa Shetty is not touchy.

These money matters are strange. Money matters to most but it matters most to who have money. But where there is money there is no matter and where there is matter there is no money. But no matter what, money is money. Little or more, it matters. In case, you're wondering if I've flipped my coins, I'm just trying to give Mamta Kulkarni some tips which she may pass on if she likes when she visits her beauty salon next. The girls working there insist that Kulkarni doesn't like to pass the buck. But Mamta can take it from me, these tips will only enhance not lessen her 'purse'onality.

---