Govinda and Karishma Kapoor are the most praised on screen couples in Bollywood. After giving hits "Raja Babu" and "Dulara," they paired again to give numerous other hits like "Hero NO 1," "Coolie No.1 " and "Saajan Chale Sasural." According to David Dhawan, "...Govinda and Karishma have the chemistry that Raj Kapoor and Nargis had.."
---
Chandrachur Singh and Priya Gill are newest on screen pair that have caused a little excitement in the movie industry. After their hit movie "Tere Mere Sapne," they have signed many movies with other popular stars. However, they hope that they will have another chance to work together in the near future.
---
Karishma Kapoor and Aamir Khan gave the biggest hit of 1996 in Raja Hindustani. That movie literally jump started Karishma Kapoor's Career. With Hits with Salman Khan in Judwaa and Sunny Deol in Jeet. She has shown that she can costar with any other hero than Govinda and still give a hit movie. This was the first time that Aamir Khan had worked with Karishma Kapoor. Their on screen kiss made "Raja Hindustani" a sizzling movie with great pair and good music.
---
Shahrukh Khan and Kajol are the most entertaining on screen couples. After giving a hit in "Baazigar," they paired once more in "Dilwale Dulhania Le Jayenge," making DDLJ, the top grosser of the 1990's after "Hum Aapke Hain Kaun." I personally, like Shahrukh and Kajol together not only because they look good together but they make GREAT MOVIES.
---
Shahrukh Khan and Madhuri haven't given any hits together. Before the release of "ANJAAM," the audience had great expecatations from the movie but the movie bombed because of poor story line. The same thing happened with "Koyla," even though Koyla had an ok story line and great music. However, in "Koyla" and "Anjaam," Shahurkh and Madhuri have given their best performances.
---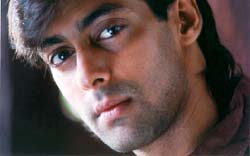 Salman Khan and Manisha Paired together for the second time in "Khamoshi: The Musical." The performances were good but both movies('Majhdhaar' and 'Khamoshi'), didnt live up to audience's expectation.
---
Akshay Kumar and Twinkle Khanna haven't signed a movie together but they look good together..hecht Akshay looks good with anyone.
---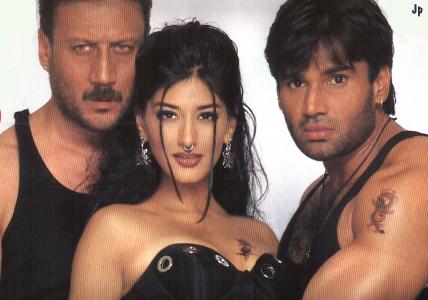 Sunil Shetty and Sonali Bendre are the only couple in Bollywood who have signed more than a dozen of movies together but have failed to give a hit. We first saw them in 'Gaddar,' then 'Takkar,' and lots of other movies which are still to be released. Even though, they haven't given a hit together, they are a treat together On Screen.
---
Akshay and Raveena. Wow from the rumors of being married to living together..both of them have attracted a lot of media attention. Their hit number in Mohra "Tu Cheez Badi hai Mast Mast..," was a treat for viewers. They really like to work together as one can feel the chemistry between them On screen. Above is the picture of them in 'Daava' which is set to realease soon.
---
Twinkle and Ajay Devgan love to work together. They signed for the first time in 'Jaan,' however, the movie was a box office poison. They came back with 'itihaas,' but still that movie failed to satisfy the audience. They have signed more movies together hoping that one day, they will be considered a successful pair.
---
---
Sign My Guestbook
View My Guestbook
Mail Me Any Comments Or Suggestions