THIS PAGE HAS BEEN ACCESSED

TIMES.

The Married Couples of BoLlYwOoD!!
In Hollywood the bride who is tossing up the bouquet is just as likely to be the next one to get married as the girl who catches it. But thankfully in Bollywood the situation is different. The intoxication of love doesn't end with the wedding vows. So does anyone know, who are the real life couples of bollywood? We heard rumors about Akshay-Pooja Batra and Ajay-Kajol but they were rumors. Below are some of the couples who have tied up the knot already.





Someone who did get married, was BOBBY DEOL. IN the process, he broke every young maiden's heart and wed Tanya.
Bobby Deol and Tanya celebrated their wedding anniversary last month(June). True to Bobby's style of having a low-key, less show-shaa affair the couple had a quiet cozy dinner to celebrate the event. Close friends wished them but the day belonged to each other. When someone quizzed Bobby about what he gifted Tanya, he said, "I'm still looking for something." What did wifey gift him? "She still is looking for something." And then finally summing it up he said, "We have so much to give each other that when it comes to gifts we have to really search the whole town inside-out." Any guesses why this couple is the happiest around?
---
When Shahrukh Khan entered the film industry, he had already tied the knot with Gauri. Shahrukh Khan had a Hindu style wedding as well as a court marriage. According to Shahrukh, "..there was a problem because some Muslim organisation thought that I shouldn't get married to a Hindu. We wanted it to be a short and sweet wedding but Gauri's parents wanted in a typical Hindu fashion. And then I relented because I thought what the hell you get married only once in a lifetime. At least I thought I will."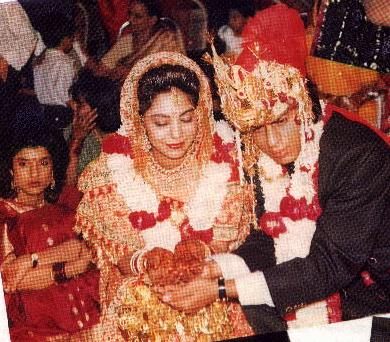 Mr Baazigar had an exciting wedding. Normally the dulha comes on the ghoda(horse) and he isn't supposed to see his bride till the pheras are over. But the car that was supposed to pick up his dulhania conked out. Then as usual, people panicked because the mahurat was at a fixed time so then just like the movie 'Dilwale Dulhania Le Jayenge,' our hero came to the rescue. He picked Gauri up, dropped her, went back and returned on a horse..now thats' what we call a real life hero :).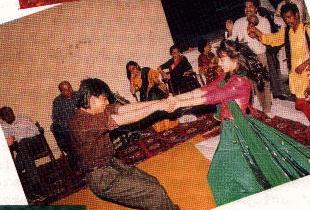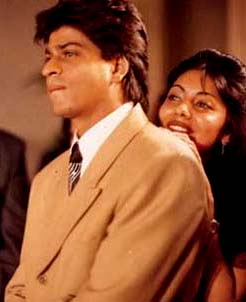 Now wait a minute, it's his wedding, he had to dance. Yes folks, he got off the horse and danced for the one kilometer stretch to the venue. When it was time for the bidaai, Gauri sat in the car and started crying. Soon her mother started crying, her father and brother followed.So then in all seriousnes Shahurkh said "...if you are all feeling so bad then you can keep her I'll come and see her regularly...no wonder he is called the 'Sho Shweet Baba' around the industry. He stil is happily married with Gauri(sorry girls!).
---
Another couple to tie the knot already is Atul Agnihotri and Salman Khan..NO that didnt' come out right. Lemme say that again, Atul Agnihotri and Salman Khan's sister Alvira. According to Atul, the highlight of his marriage was bidaai. And no one cried at bidaai. Alvira was laughing throughout, Salim, Salma, Salman, Arbaaz and Sohail--everyone was cracking up, joking and fooling around.
---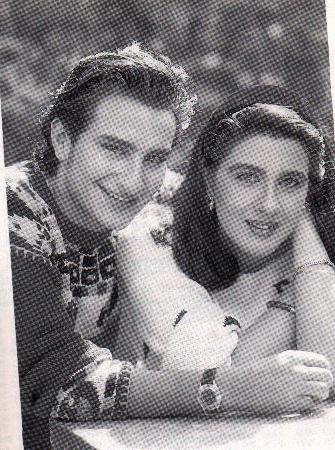 Peoplee!!! The sweetest thing to say after a date is "..Why don't you take my car and leave your's behind? Then I'll know you'll come back for sure, for your car--if nothing else." Yes Folks, Amrita said the same thing to Saif after their first date and ta daaaaa..they are happily married now.
---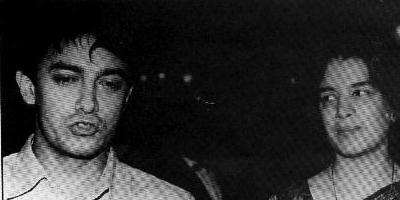 Yes folks, Aamir, the chocolate face hero is also tied up with Reena. According to Aamir's Cousin Nusrat, he is head over heels for her. Reena is so concerned that Aamir does not get carried away with his success, that she regularly threw away hundreds of his fan mail into the garbage without even opening it! Tch! Tch! So much for all the trouble Aamir's fans took for him.

---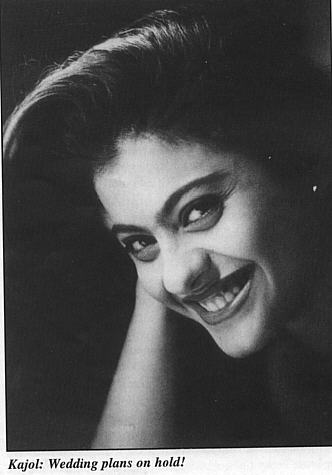 Is Kajol really married? Surprisingly, in today's scenario with hemlines climbing higher, cleavages sinking lower, with quotes being brasher and their love-lives thrown open for public consumption, the fresh lot of heroines for all their outward brazeness, refuse to take the bold step of risking marriage and thumbing their noses to the consequences. So even a stormy pretzel like Kajol, who believes in living life on her terms, plays safe by practically living in with boyfriend-husband to be Ajay Devgan but will refuse to take those crucial seven steps around the fire for the sake of her career.
---
Juhi Chawla(or shouldn't that be Juhi Mehta?)


It's no secret that she and Jai have been cozily bonded as man and wife for the past six months. At a party thrown for a select crowd of friends on the day the wedding was ostensibly cancelled, the couple avoided quiestions about the postponement with vague answers but smug expressions. Their glowing demeanours spilled the secret out for the world to see. It was pretty obvious the two had gone ahead and tied the knot but were making a farce about postponing the event.
---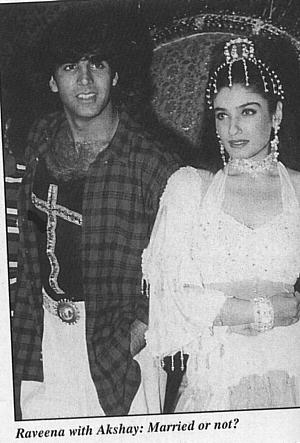 Today, a Raveena too vehemently dismisses rumours about her marriage to Akshay Kumar. She spurns evidence like Akshay's name being printed as one of the hosts in her brother's wedding invitation. There have also been claims by witnesses who swear they have seen her wedding pictures. But then Raveena's career too at the moment is going great guns and she is not willing to give it all up so easily. So don't ya worry, in the near future, Kajol and Ajay "Karate Kid" Devgan and Raveena-Akshay would tie up the knot or admit it that they are married already.
---