SELF-A SOUL SEARCHING EXERCISE





HOT SHOT -- GETTING CLOSER TO JACKIE'S HEART!!



He's lovable, he's adorable! We all know him like the back of our hands, a book read up umpteen times. Yet, we cannot help but dig up just a little bit more, when it comes to this incredibly handsome hunk.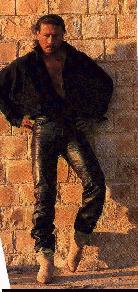 Birth Date and place: 1st Feb, Mumbai
Height: 6 ft
Weight: 78 kgs
Favourite Hero- Heroine: Dev Anand / Dimple and Manisha
Favourite all time movie: Guide
Clothes: Casuals & Formals: I like anything, from dhoti, shirts to jeans.
Obsession: Children
Do you diet: No
What makes you the happiest: A helping hand
What scares you the most: People out to destroy the world
What do you absolutely hate: Rich people who have no thought for the poor
You dream about: Peace
When you say the word 'Women', what is the first thing that comes to your mind: Mother
Any one memory that doesn't leave you: My brother's death
What does the word 'Love' mean to you: Pain
Your weakness: Children
Your idea of bliss: No disease
What turns you on: A clean mouth
Do you have a favourite collection: No, I don't have any
Your favourite pastime: Cooking. And how well I cook, you will have to ask my kids
Your idea of sexy: A good smile
Any thing you particularly recall about your struggling days: I consider myself lucky that I didn't have to struggle really. Lady luck has always been with me
Are you religious: Not to the extent of fanaticism
Your favourite sport: I like to watch World Cup Football and like to play Carrom
One quality in you that you adore: The ability to cry for others

Music: What kind? Favourite number; group: I like to listen to old Hindi songs especially of Geeta Dutt and Mohd. Rafi
You are sentimental about: My childrens' jeans which are a year or two old
Do you try practical jokes: No
A little about your family: Daughter, son, wife, mother and lots of cousins
Your whackiest fan: My daughter
Favourite holiday resort: Matheran and Goa
You admire: People who care
Closest friend: Danny
Favourite haunt: My bedroom
You believe in: People
Motto: Live and let live
Best compliment you've received: I feel like eating you up
Any pets: Ya, two of them, Krishna and Tiger
You are paranoid about: A two way ticket confirmed
Favourite joke: I hate jokes
You idolise: My wife and all the qualities in her I wish that I had
Your favourite line even with women: Life is short
Any colours you are crazy about: Black
You are booked in the industry till: It depends on people
Your most embarrassing moment: When I was caught with my pants down in front of my kids
The saddest moment in your life: When my brother and father died
If God were to grant three wishes, what would you ask: NO DISEASE- NO WAR- NO POVERTY!

---
This Site Created by the one and only Jimmy Mehra