THIS PAGE HAS BEEN ACCESSED:
TIMES SINCE AUGUST 20, 1996.
TALL VS SHORT IN BOLLYWOOD
The intent of this section is to provide everybody with the information about the heights of the bollywood stars...so kick back, relax,enjoy and make sure to provide me with your HEIGHTS. Just kidding..Read on!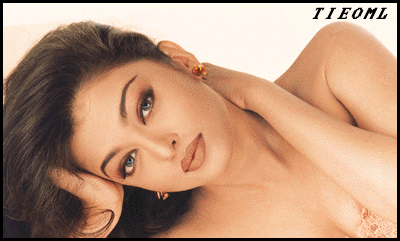 Tall claims: Aishwarya Rai


Till recently, if you're tall and pretty, you may become a beauty queen, a fashion model or maybe an airhostess. But you could hardly hope for a job in Bollywood.

Flip through the interview of Dev Anand's Prem Pujari heroine Zaheeda, in the latest Cine Blitz. She recalls the hilarious times on the sets of Anokhi Raat when she, then a modern young miss who loved high heels and huge bou ffant, had to be literally cut to size by costar Sanjeev Kumar.

"Don't wear high heels... Okay, at least don't pile that hair so high up on your head. Flatten your hair. You look too tall," the actor told her. She didn't remain long in the industry.

Heroines like Nutan, an ex-beauty queen, who dared to stand a little taller than the standard 5'2" had to perfect the art of wearing flat hair styles and flatter slippers while cameramen fine-tuned their technique to present the hero as standing taller than his towering heroine.
Tall dolls

Sushmita Sen
Pooja Batra
Tabu
Sonali Bendre
Shilpa Shetty
Aishwarya Rai
Sridevi
Rekha
Raveena Tandon
Madhuri Dixit
Juhi Chawla
Kajol
Mamta Kulkarni
Karisma Kapoor
Urmila Matondkar
Twinkle Khanna

5'9.5"
5'9"
5'8"
5'8"
5'8"
5'7.5"
5'7"
5'7"
5'7"
5'5"
5'5"
5'5"
5'5"
5'5"
5'4"
5'4"
HEIGHTS OF THE HUNKS

Amitabh Bachhan
Vinod Khanna
Shatrughan Sinha
Akshay Kumar
Jackie Shroff
Bobby Deol
Sunil Shetty
Sunny Deol
Anil Kapoor
Akshaye Khanna
Shahrukh Khan
Saif Ali Khan
Govinda
Rishi Kapoor
Salman Khan
Aamir Khan

6"2
6"1
6"1
6"0
6"0
6"0
5"11.5
5"11
5"11
5"9
5"10
5"8
5"8
5"7
5"7
5"5.5

In this scenario, fashion models and beauty queens who averaged 5'4" and above never had a chance, being relegated to playing vamp or dancer.

Girls with long limbs like Faryal or Persis Khumbatta couldn't ever hope to become a heroine. Sure, talent mattered too, and fashion models were by and large wanting. But a leggy exception strode in one day and shattered long- cosetted myths. The woman was then Miss Asia Zeenat Aman.

Could Zeenat emote? No. Was she earthy, wholesome, desi? No. Was she a terrific dancer? No. Added to all this, Zeenat measured 5'8". But she remained a saleable heroine.

The Hindi film industry did have its Rekhas and Hema Malinis who were dangerously tall then at 5'7". But here was a completely westernised beauty queen who couldn't act to save her life, tall enough to dwarf all her heroes, who yet could be a major sta r.
The Tall Sonali Bendre with Sunil Shetty and Jackie Shroff

"I wasn't just tall, I was the tallest," remembers Zeenat, who retired to marry Mazhar Khan and have two kids. While Zeenat's height and figure might have had drooling elsewhere in the world, in the Hindi film industry, "one got used to hearing comments like 'She's too tall and she's too thin'," laughs Zeenat.

If Zeenat managed not to offend her heroes (Rajesh Khanna, Sanjeev Kumar, Jeetendra, Shashi Kapoor), it was because she "wore flats 90 per cent of the time". Only a rare Amitabh (6'2"), Vinod Khanna and Shatrughan Sinha (both 6'1") could stand tall nex t to Zeenat and not feel dwarfed. But even they wouldn't hear of her in four-inch heels, which would automatically bring her up to their eye level.

And so, the tallest heroine of the eighties had diaries full of anecdotes about heroes who were propped up to look taller. "The one and only scene I had with Rishi Kapoor in my career was so funny, I don't think I'll ever forget it, nor will he," chuckles Zeenat.

The scene in Hum Kissie Se Kum Nahin required Rishi (aka Chintu) to sit on the same sofa as Zeenat. "It was so funny. He had to be literally propped up with two cushions under him so that he'd look taller." Quite an effort, since Rishi is 5'7".

But Rishi, and Rajesh Khanna -- the shorties of their respective generations -- always did have a particularly rough with their heroines.

Rishi distinctly felt the difference in stature during a photoshoot with Sridevi for the cover of Star & Style many years ago.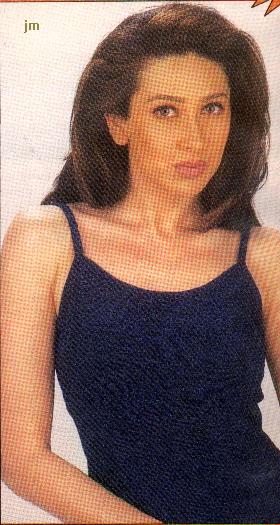 Karishma Kapoor was the perfect size for Aamir Khan in 'Raja Hindustani'

Sridevi had turned up in a flowing, white dress and three-inch heels. On spotting the look of dismay on Chintu's face, Sri loudly whispered, "Sorry," and embarrassed him further by making a big show of kicking off her shoes before sitting on the steps. Predictably, the photographers had composed shots of Rishi sitting a step higher than Sri just to make him sit tall.

If Rishi had a trying time with Sri who was just about his height, imagine his plight when he found Tabu opposite him in Pehla Pehla Pyar. Tabu is 5'8" but she never takes advantage of her height. "Poor Tabu is so conscious of her height that she sort of crumples into herself and never poses standing proudly erect," observes dress designer Simple Kapadia who has been doing all of Tabu's costumes since Darmiyaan.

"She seems even taller because she's slim and very long-limbed. So we give her only flats in all her films. Flats are fine when she's playing a gaon ki chhori (as in Virasat) or someone in sarees. Then you don't notice the bare feet. But flats with western outfits look horrible!"



When Madhuri is shooting with Saif, she
wears two-inch heels; with Akshay Kumar
she ups the ante to four inches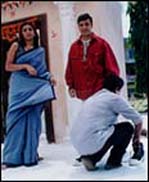 Tabu with Kamal Hasan. Kamal sports those special uplifting shoes. Once taken off Tabu has to really lean over to make Kamal look even as tall as she is.


So if Tabu ever comes in western clothes, it is in solo shoots or in cleverly composed mid-shots where you don't' see Tabu barefoot or the hero on a short stool. Luckily for Tabu, tall isn't necessarily taboo now in the Hindi film industry. So she finds herself being snapped up by the best of heroes, including another renowned shortie, Kamal Hasan, in Stree 420 (formerly Chikni Chachi). Well, how did Tabu manage? "She shrivelled up as usual and wore only flat s," says Simple.

"Tall is in," authoritatively announces Manish Malhotra, the whiz designer who changed the images of Urmila Matondkar and Karishma Kapoor."I hate flats," he pronounces, "and I give my heroines a good four-inch pair of heels to wear. Karishma has starte d wearing four-inch heels and she carries them really well. I feel that heels add to the gait, they give grace to your walk."

Actresses like Karishma and Madhuri aren't too tall but they too run into trouble when their heroes are Aamir, Salman or Saif. So when Madhuri is shooting with Saif for Aarzoo, she wears two-inch heels and in the scenes with Akshay Kumar in th e same film, she ups the ante to four inches.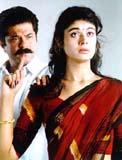 Flats on her feet: Pooja Batra intimidated even the tall Anil Kapoor


"The problems arises only in scenes where the girls have to be with the hero," says Malhotra. "I give them two pairs of shoes -- Karishma wears four-inch heels in her dance sequences but changes to one and a half-inch ones when she's with a short hero."

Shilpa Shetty who is also tall, has an array of flats laid but when shooting for films like Auzaar (one lambi gal caught between two notorious shorties, Sanjay Kapoor and Salman Khan) she simply kicks off her shoes altogether.

And what happens when the heroine is a towering 5'9" like Pooja Batra? Even Anil Kapoor, who's above 5'10" was conscious of being sandwiched between Tabu and Pooja in Virasat. Both girls had to comply with the high heel ban on the sets.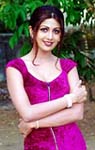 Changing shoes with heroes: Shilpa Shetty

But luckily for both girls, tall really is in today. "It's only leggy girls who carry off western clothes really well," says Sulakshana. "Most of our heroines tend to have a very short distance between the chest and the waist (translation: small b elly) which rules out western costumes immediately. That's why you'll find someone like Jaya Prada who's barely 5'2" so uncomfortable and awkward in western clothes while some one like Rekha, despite her tendency towards plumpness, carries them so beautif ully."

The tall heroines are find they can stretch, now that taller actors like Akshay Kumar, Sunil Shetty, Sunjay Dutt and others are coming up.

"Shah Rukh Khan and Ajay Devgan also have no hang-ups," says Naresh, the guy behind Masculine, the shop that outfits most heroes today. Dress designers have to take extra care to provide the right footwear to the heroes as well.

Footwear with several inches of padded insoles are a must as are those thick pads that go on the outer soles. One hero who has mastered wearing the right kind of shoes is Aamir Khan. He is, perhaps, the shortest among the best-selling stars of today. A amir who's under 5'5" never does a barefoot scene and executes almost every scene with his (padded) shoes on. Even his Kolhapuri chappals in a film like Hum Hain Rahi Pyar Ke were specially made with heels.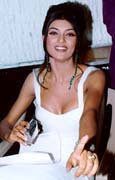 The tallest of the bunch: Sushmita Sen

Even Juhi Chawla who's only 5'5" has major problems with Aamir, confirms dress designer Neeta Lulla. "She manages when she's with Govinda but with Aamir she has to take special care never to wear heels. She too slips into flats."

A popular story that was told when Dev Anand's Awwal Number was being filmed someone filched Aamir's shoes (yup, the one with the two-inch insoles) to tease the guy. But shooting was held up for hours since Aamir refused to budge out of his ro om until he'd found his shoes and put them on. It must have been a relief being back on stilts.
---
Sign My Guestbook
View My Guestbook
BACK TO HOME SWEET HOME
ANY COMMENTS OR SUGGESTIONS??