I recently saw Arbaaz on the sets of SHYAM GHANSHYAM in filmcity. I had just recently seen DARAAR and I must confess, I was maha impressed by him. He has worked hard on his character and his sincerity shows. My heart cried, wailed when he was stuck at the rail tracks. The movie had me glued to my seat. Arbaaz continued from there. " I still maintain that had the film released before AGNISAKSHI it would have done very well."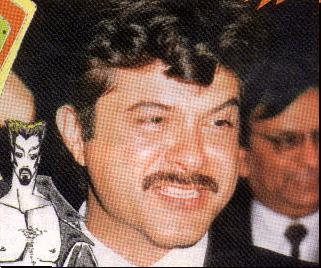 Lady Luck seems to be suddenly getting up from a snooze and backing one star. She got, touched Karishma kapoor, she then sidled up to Sunny Deol and the stud delivered hit after hit at the box-office. Now it's the turn of the lady to turn her charms on Anil Kapoor. The poor fella went on claiming that he is number one but nothing happened to his box-office ratings. Then suddenly his Judaai did well, And Virasat also has got him rave reviews. I hope Anil Makes hay while the sun shines. Keeps his mouth shut because the lady luck loves silence around her.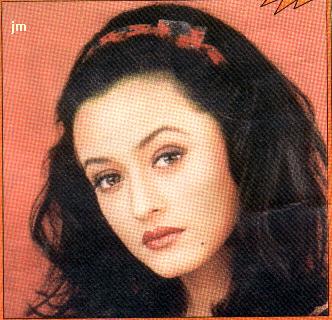 Times certainly seems to change very quickly. Dormant siblings turn dominating while the dominating tries hard to turn docile due to change in circumstances. So at the sets of Albela, Chinu(Namrata Shirodkar) was going the next day for an outdoor and sister Shilpa was doing the packing at home. Every ten minutes Shilpa kept buzzing Namrata to ask her for this and that. So when Shilpa called her to ask her about which lenses she wanted to take, an exasperated Chinu finally barked, "Put all of them together! I want the blue lenses but you'll probably put in the blue-grey ones or something else because you wouldn't know, so put all in my suitcase. And now please stop calling me for these little things!" Before she could finish, Shilpa hung up her phone. When rebuked by a reporter, Namrata replied, "Well I also did the same things for Shilpa during her time!" Meowww! One catty sis this!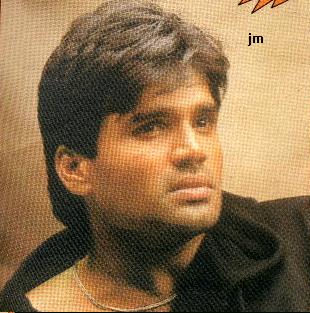 Sunil Shetty, that piece of absolute, sheer, male perfection, has certainly turned grouchy of late. Fans on his set who had turned up to click pics with him were surprised to hear irritated Shetty snap, "Not now, let me remove my make-up,' then maybe..." The persistent fan continued relentlessly while Shetty resisted. Finally the fan ran out of pleas and said, "But we don't mind posing with you in this get-up." Sunil finally couldn't hold onto his temper anymore and snapped, "But I definietly do mind na! I don't want to shoot pics looking so bad!" Sunil has definetly become quiet conscious about his looks but one can't also blame him. The get-up he was in was quite terrible. He was shooting for Bhai and he was made to wear a long wig(which was red) with curly locks coming down onto his shoulders, a brown, curling moustache to match and a horrible small cap to top it all. He's supposed to be this rustic coming from the village. GAWD! What make-up will they think of next?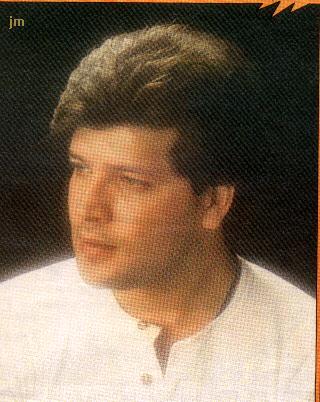 Aditya Panscholi can always take another job. That of being a body-guard. While shooting for YES BOSS with Juhi, when one journalist kept pestering Juhi with some questions Aditya strode up menacingly and mock-growled, "Leave her alone or you will have to deal with me. I am her body-guard now." Well, well, Nirmal has certainly changed for the better. But one feels sorry for the guy though. Even when he tries to keep out of controversies he still finds himself in the thick of it. Recently, someone linked him to Madhoo. Nirmal(Aditya) complains, "What can I do?" Even if I have done nothing, they still link me up. Believe me there's nothing to all these rumours!!"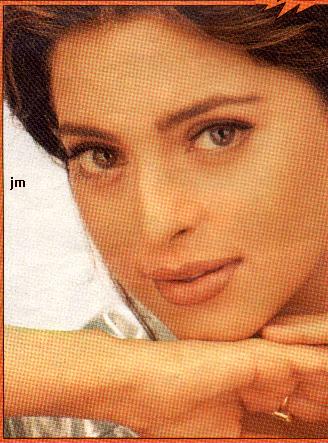 What makes you curl up and die? Your drunk friend throwing up in your lap. The chalk screeching on the black board. Ayesha Jhulka trying to be yuppy. Well my list can go on and on forever but when I recently read Juhi Chawla and Mohnish's conversation, it become Number one on my "ugh" list. This is how their tattle went.
Mohnish Behl: Your wig looks as if you have treated it with Anne French.
Juhi: How do you know a hair remover makes hair look?
Mohnish: Because I use to remove the hair in my ears.
Juhi: I didn't know men waxed?
Mohnish: I do. I've to remove the hair from my ears, if I don't, with the shooting lights my hairs look illuminated.

UGH! Imagine discussing ear-hair over food. I could use a Star Trek energizer and just make both of them vanish in a second.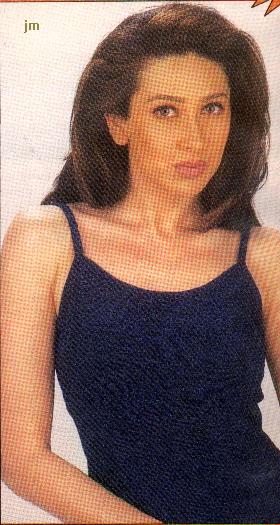 My sexy pudding Karishma Kapoor is facing the music as far as her cynics go. Everything she does they turn it against her. She leaves a film, they call her names. She looks dazzling they say she is becoming repetitive. Nowadays the chic is so hyper with anything she does that she puts forth the arguments, counter arguments all before the detractors shout aloud. Confirming the news that she is doing a film with Chandrachur the actress said, "If I would say not to a newcomer they would run me down saying I've become high and mighty. Now when I've done it they will still call it a wrong move...How do I get out of this two-way slander?"
You don't honey. When something is inevitable just lie back and enjoy it :)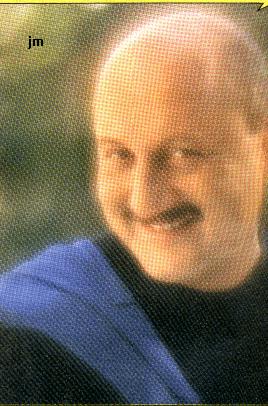 I read Anupam Kher's name in the newspaper when some gentleman wrote back in the reader's column to say how the actor had helped him after an accident on the merciless roads of Bombay. Three cheers to the guy who stopped and helped heal a bleeding one. And now that we are on the ageless wonder I must also tell you about the fabulous show he hosts on Doordarshan. It's a unique programme. Original, smart, great, time-pass. The programme is about Mr Anupam Kher as Mr Gold travelling all over india and giving away gold coins after asking people questions. Recounting an incredible incident Anupam said, "We went up to this man buying coconuts on the streets of Madura. It turned out to be that he worked for a blind association and he was blind himself. It's human tenacity and endurance that the programme tries to highlight."
Wah Wah Wah..this man is a real life Saint.

Dobby Goel's SAFARI was recently being shot at the ferry wharf. Juhi and Sanjay Dutt on the first day were practically twiddling their thumbs doing nothing. Sunil Goel(director Dobby Goel's brother) walked to Juhi and narrated a joke made by him and his brother the previous evening. And this time the target was Mamta Kulkarni.
If Mamta Kulkarni was referred to a therapist for her present state of condition what would she probably think he was?
The rapist.
When asked whether Sunil Geol or his brother had any jokes on Sanjay Dutt or Juhi, Sunil diplomatically said, "After the film we'll probably make one on her too."
Mamta(this chic has lost it) Kulkarni shouted Rape and after wrapping it up with Raj Kumar Santoshi raps the film magazines. Some cheek I just say! And why the hell are these stupid journalists of these so-called-intelligent newspapers just taking down notes from Mamta? Don't they know she and her mother have accused Raj Kumar Santoshi in almost all film magazines. All mags can't be wrong, all can't fabricate.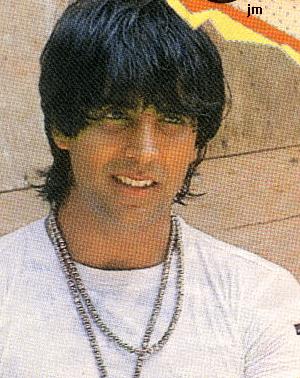 Akshay Kumar once upon a time was someone who tried out different looks and get-ups because he didn't want to get stuck in the rut of the conventional Hindi film hero. First he tried the cross around his neck he did it so many times that it became too much of cross to carry on his shoulders. Then he tried girl models as props and soon all aspiring girls got a sure-shot way of being in the film magazines. But the man seems to have gone all wrong with his looks. Put on any channel and you see Akshay on the beach, wearing beads, shirt open, trying to do the hip-hop thingie. Just when you are about to believe that this must be one multi-starrer film with Sonali Bendre, Raveena Tandon, Shilpa Shetty and Akshay Kumar all dancing together, somebody enlightened me that all these were different films. Wake up Aki, you are looking the same in different movies, dancing the same way and the worse of all evils is all your movies are looking the same.

---